Eight Emerging Jewellery Designers to Know This Fashion Month
"Jewellery is like the perfect spice – it always complements what's already there." So said Diane Von Furstenberg in a quote that neatly summarises the importance of jewellery in a fashion designer's tool kit, and the reason why so many brands turn to jewellery designers to elevate, or "season", their collections when fashion week comes around. Here, as the London Autumn/Winter 2020 shows commence, we spotlight eight of our favourite jewellers making their mark on the fashion world, one collaboration at a time.To get more news about print on demand jewelry suppliers, you can visit jewelryhunt.net official website.
Artist Emily Frances Barrett creates avant-garde jewellery from cast silver and a range of found objects, from bottle tops and clay pipes to resin-coated cigarette butts. Her skills have been called upon by various designers, including, most recently, David Koma – for whom she crafted beautiful earrings from butterfly wings – and Jordan Luca – whose models sported clusters of her resin-dipped flowers, shells, and feathers hanging from chains and necklaces – for Spring/Summer 2020. "All my experiences working with designers have been so different," she says. "For me, it works best when there's a mutual appreciation for each other's aesthetic. That's key! Collaborative projects keep things interesting and often take me in new directions. I love seeing my work live within someone else's visual world – it's quite magical."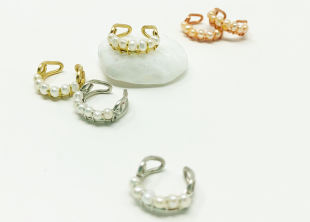 "I see jewellery [as] an extension of the body in a sculptural way," jeweller Gala Colivet-Dennison told AnOther, shortly after she released her debut lookbook in 2017. And she did in fact study sculpture before turning her hand to jewellery, as evidenced in her bold, oversized pieces which demonstrate her command of shape and texture. Silver is her preferred material, often embellished with mesmerising, roughly cut stones. Richard Malone enlisted Colivet-Dennison's talents for his A/W19 collection, where her strikingly architectural designs – adorned with agate stones, raw jasper and baroque pearls – perfectly offset Malone's refined block-coloured ensembles. Her singular aesthetic has also been championed by Pringle of Scotland, with whom she has collaborated for two autumn/winter shows in a row, conjuring up exaggerated kilt-pin brooches, statement earrings and geometric belts.
Alighieri is the brainchild of scholar and artisan Rosh Mahtani, who set up the label in 2014, inspired by Dante's Divine Comedy. Each of Alighieri's "modern relics" corresponds to one of the famed work's poems, translating Dante's vivid tales of the afterlife into elegantly amorphous pendants, bracelets and rings, rendered in gold and silver. Many fashion brands have tapped Mahtani's talents, from Joseph to Eudon Choi, and most recently Lacoste, who invited the jeweller to interpret its famous logo for a beguiling series of "molten crocodile necklaces, hoop earrings and bangles" for Spring/Summer 2020.
Louise Trotter has been so incredibly supportive of Alighieri from its genesis," Mahtani explains to AnOther of the collaboration. "When she asked me to create this iconic symbol in the Alighieri way, I was over the moon. We spoke about René Lacoste's ethos of playing fair – not being the fastest player, but the smartest. This resonated with me in every way; the notion of taking our time to build amazing relationships, and doing it all with integrity."
Alighieri will also be staging its own independent presentation as part of London Fashion Week on Tuesday, styled by Another Man's fashion director Ellie Grace Cumming. Here, Mahtani will be presented with the Queen Elizabeth II Award for British Design – an award previously given to Richard Quinn and Bethany Williams.
Vicki Sarge's luxury costume jewellery has adorned the runways of Dries Van Noten, Erdem, Givenchy, Raf Simons for Jil Sander and more. Her designs are at once delicate and theatrical, comprised of intricately rendered metals, decorated with glass, stones and jewels in glorious hues. She created the jewellery that memorably enlivened Rihanna's Savage x Fenty lingerie show last September (yes, those dazzling headpiece-cum-earrings and embellished body chains), and the covetable drop pearl earrings that featured in Yorgos Lanthimos' The Favourite.
Autumn/Winter 2020 will see the jeweller reconnect with British American designer Mimi Wade, known for her similarly colourful brand of femininity. "We first worked together on the headpieces for her graduate show at Central Saint Martins and have collaborated ever since," Sarge tells us of the "super-intricate, couture-esque" pieces the duo have produced together. "Mimi always has a very specific vision for each season – and Autumn/Winter 2020 will be a chance to sparkle." Sarge will also reunite with feted knitwear designer Mark Fast, who selected a handful of her refined pieces for his 1950s-inspired Autumn/Winter 2019 show.